Description
Leashrly Life is proud to offer beautifully painted acrylic, oil, pen & ink or watercolor portraits capturing your pets' unique expression and personality!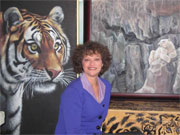 Germaine Gerie is a local artist and teacher who has been painting since she was 9 years old. Her work has been featured in numerous galleries and collections including the Nippon Club in Manhattan. Work has been commissioned by celebrities such as the late Gilda Radner, and a Persian cat design was photographed by People magazine worn on a shirt by actress Drew Barrymore.
Take a peak at some recent portraits done and choose a look that's right for you.
Pet portraits are great gift ideas!! Consider commissioning one as a birthday, anniversary or wedding gift. Choose a style and size as the perfect Holiday gift for any one of your animal loving friends and family. They also make wonderful remembrances for those who have lost loved ones. Let us help treasure your memories for years to come.
As a Leashrly Life customer, take an additional 10% off prices for a limited time!
Coming soon, Leashrly Life will be hosting house parties locally and 'wine and cheese' events at the artist's studio in Cumberland, RI where you can view pieces and learn more about the various mediums with which she works.
[contact-form-7 404 "Not Found"]