Cops Rescue Stray Pup Too Afraid To Move After Earthquake
Posted on October 3, 2017 by PDG DEV No comments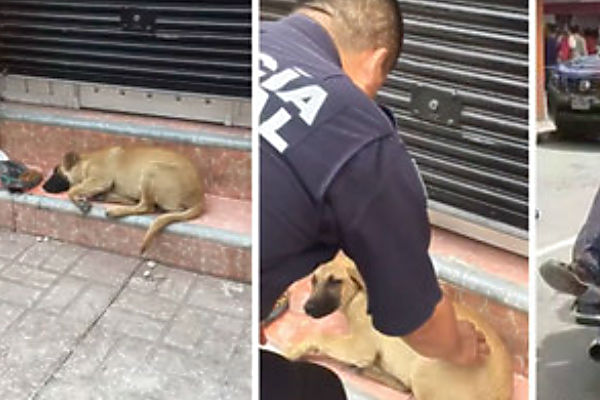 As you may recall, just two short weeks ago, a devastating earthquake rocked Mexico City, Mexico, leaving close to 300 people dead in its wake. Thanks to the dedication of police, fire, search and rescue operators who spent countless hours searching for survivors, the death toll would have been higher.
In the midst of all this devastation, those who put their lives on the line to save others, have proven time and time again that even the humblest of all creatures deserve a second chance at life too.
Two days after the earthquake, Officer Gil with the Policía Federal de México came across a terrified pup who was so paralyzed with fear, that he couldn't move. The dog, who seemed dazed and confused by all that happened, tucked himself away on a hard lined street, staring at all the chaos, noise and confusion around him, in profound bewilderment.
Upon first discovering the dog, Gil said,
"Some superficial wounds were visible on her body and she was scared, refusing to eat or drink water. At that moment she apparently could not move."
While most people passed her by, Gil and his fellow officers decided to step in in a big way. After performing a brief medical assessment on the pup, they rushed her to the Mexico City's Central Veterinary Clinic, for emergency care.
At the clinic, veterinarians got to work examining the puppy and discovered that she had some internal and external injuries suffered by the buildings collapsing around her during the earthquake. Thankfully, none of her injuries were life threatneing. Now that she knew she was in good hands, the pup began to perk up, and reveal the warm and fuizzy person she truly was.
Hospital staff soon began to realize just how sweet and kind the puppy was. She has a fondness for treats, just like any other pup her age.
…and of course, she can't resist a good belly rub…
Given the petrified condition she was found in, the young pup's emotional recovery from such a traumatic situation was quite remarkable in its self. A week after he rescued her, Gil returned to the hospital, to pay his new friend a visit.
Gil also brought her a nice sweet present, a pillow, where she could lay on and rest comfortably.
But the biggest gift of them all was about to come.
Gil coordinated the adoption of the pup with one his colleagues agreeing to take her into his family permanently. Now the pup who was so terrified that she couldn't move is never too far away from the men who saved her life, and gave her the transformation of a lifetime, she will be always grateful for.
Please keep the people of Mexico in your thoughts and in your hearts, as they recover from this devastating earthquake.